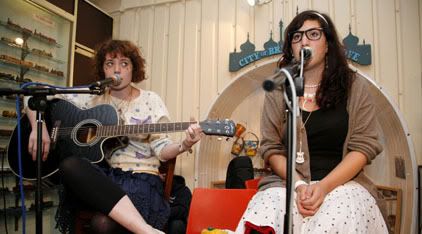 Peggy Sue & The Pirates are not your average band. Firstly, there are only two of them, Rosa Rex and Katy Klaw, best friends who, in their own words, "go together like shooby doo and whop bam boo". They also really do like good music, although it is somewhat varied. Sleater-Kinney, Billie Holiday, Jeffery Lewis, the Velvet Underground, Devendra Banhart... they're all there, although it might be best if we politely overlook the Hanson love. And unlike most musicians, their list of superstars isn't merely an attempt to score some extra cool points; you can hear every one of their influences (although again, skipping Hanson) hiding amongst their songs, burrowing deep into the listeners' heads and hearts.

Peggy Sue (or Peggy Who? as their merchandise modestly asks) come from Brighton via London, and are aided in their musical composing by a guitar called 'The Stud' (their boyfriend) and Sir Pablo, an impressive yet expensive guitar tuner that doesn't really work properly. Sounding a little bit eccentric? Wait until you've heard their songs. From a morose tale of Superman's many dilemmas ("I've been wearing the same outfit since the thirties, everyone else gets to change their clothes, but I still have to wear these") to an addiction to television or lending out body parts, no subject escapes Peggy Sue's beautifully shrill harmonies, mad double bass jamming and delicate guitar picking, no matter how bizarre or mundane it may appear on the surface.

Because they are hard to compare to other acts, this may all take a while to digest, but theirs is a world worth becoming consumed in.

My interview with Katy & Rosa will be printed in the upcoming issue of Shebang.

MySpace
Peggy Sue's MySpace

Their single Television/New Song is available now from Recordstore.co.uk