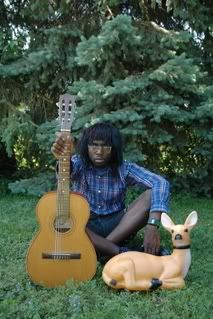 (Photo taken by Jessica Byrne)


I think Lightspeed Champion might actually be my new favourite band (or artist? It all gets a bit confusing). That's a pretty big statement to make (especially for me… I can barely decide what to eat for breakfast, let alone who I'd cite as a favourite band when the inevitable question is asked) but I think it may be true. And it seems that the more I read about Lightspeed Champion (aka. Dev Hynes, remember Test Icicles? The one that still pops up around the Internet and on telly once or twice with a Geldof? Yeah, that guy), the more I like him. He is a fan of the granddad jumper, writing blogs, deer and other wildlife (including a few deer ornaments in his album booklet that, as an avid deer collector myself, I haven't yet come across… exciting stuff!) and staying at home quite a bit. Which are all favourite pastimes of mine. Basically, he seems like a cool guy to compare jumper collections and have a cup of tea with, and not the usual too-cool-for-school indie ignoramus (thankyou thesaurus.com) that tends to grace the cover of NME.

Speaking of which… look who it is this week! I knew I should have written about him sooner (he was mentioned in the Florence & the Machine post... but that's not really the same). But anyway, enough chit-chat, this is a music blog after all.

You may be aware of the new release from Lightspeed Champion, charmingly titled Falling Off the Lavender Bridge. It is honestly the first CD I have purchased in about 6 months (I'm normally a bit of a downloader) and it hasn't left my CD player since it arrived on my doorstep. At first, I just played Galaxy of the Lost on loop (and I take back my previous comment about the intro..), but then decided to venture into pastures new. And I wasn't disappointed. Forget everything that has gone before (especially Test Icicles) as this is a very different direction for Dev. Bright Eyes has been mentioned in some reviews, and rightly so, as many tracks give more than a nod to Bright Eyes trademark folky/solo/self-pitying sound (Tell Me What It's Worth especially). But emo-tainted this is not. It's actually happy, mood lifting and uncool, but in a very cool way (basically, Belle & Sebastian without the embarrassment), and some of it's a bit like a very bitter, confused Rilo Kiley (Midnight Surprise), but with a sugar kick. The lyrics are uncomfortably truthful and self-deprecating ("Sometimes, in the cold night, my phone rings, but it's not you"/"Fuck, I think she just saw me, stop hiding in the sea/Wake up, smell the semen, this will never happen for you").

I don't want to go into too much detail, as this is definitely an album that is best left as it stands and not analysed too deeply… but I honestly can't recommend it enough. Half of it is streaming at the moment on the MySpace, so why not try before you buy?

Forget crunk... everyone I know will soon be listening to Lightspeed Champion!

MySpace
Lightspeed Champion's MySpace

The album, Falling Off the Lavendar Bridge, is available from Domino Records now.