OK.... a bit of background info on this pretty beefy review. It's meant to be written 'in the style' of NME (combining Uni work with my own, two birds & all that...) so forgive the tedious Winehouse pun and other dodgy bits and pieces (and the length.. nearly 1000 words.. phew!), it's not really all written as I'd have liked, but you get the idea. Plus I really can't face rewriting it for here.
Oh, and also the ending is horrendous.. I'm working on that. But then NME did recently use the title "Lets Make Love and Listen to Jingle Bells", so maybe terrible journalism is their cup of tea. Enjoy!
Gig Review: CSS, Metronomy & Joe Lean & The Jing Jang Jong, Portsmouth Pyramids. 20th December 2007.
It's a typically chilly December night and just as the car park outside slowly turns into a mini ice-rink, many brave the frost and head for the Pyramids for some blistering dancing action, courtesy of some of the hottest bands of the year on the final date of their tour. While the cold weather forces most to come dressed appropriately, a few courageous individuals don sequins, glitter and other sparkly goodies, that may or may not have been stolen from their Christmas trees, now left bare and shivering at home.

First to take the stage in an attempt to warm up what seems to be a venue similar to a school hall is the terribly named Joe Lean and the Jing Jang Jong, a band becoming a household name faster than the growth of Winehouse's barnet. While the frontman's indie cred might have tripled thanks to previous appearances in Peep Show and Nathan Barley, the hype surrounding them does little to distance Joe Lean from his character in the latter, instead drawing attention to the fact that the songs are just overindulgent, overdone dross. Maybe that's the point and they're some real-life Barley-esque experiment to see how stupid we all really are? After all, they do appear to tick every box in the indie band checklist, from the fashion to the hairstyles and the ridiculous name to the same stilted chords and song structure. But that seems to be the problem, as this band are so typical of their genre that they become tedious and, as bizarre as it sounds, already past their prime. Five years ago, their Ramones-jamming-with-Mission of Burma stripped down pop-punk might have captured and broken a few hearts, but now it's predictable and dreary.

Luckily, Metronomy are about as pretentious as their silly light-up moon t-shirts, and step up to the stage to reassemble the wavering audience with their simple electro beats and sweet, bashful harmonies. Channelling Tom Vek's homemade charm with a Hot Chip-meets-a-less-energetic-Klaxons' sound, individually a few of their songs might be lost between the bright lights and onstage banter, but overall songs like Trick or Treatz and Radio Ladio prove that Metronomy are not just all gimmicks and dance moves.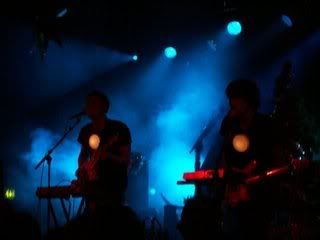 With the room suitably warm, temperatures are set to soar with the promise of the fiery CSS. Gathering around the stage, chants of "CSS Suxxx!" break out, leaving a few audience members bemused or baffled as to why so many would go to this much effort to heckle a band. But then if you choose to begin your album with a self-deprecating title track, it's to be expected, as the smiling throng know all too well. Amid the shouts, snow (smelling suspiciously like washing up liquid) begins to descend from the ceiling, and a woman decked out in a Christmas tree outfit begins handing out balloons to the front row, and chucking metallic confetti across the sea of glowsticks accompanied by Wham!'s Last Christmas. This is so weird, am I sleeping, is this a dream, NO!?

Eventually the lights go down and CSS take to the stage dressed as giant gifts, in a flurry of tinsel and dry ice. After ripping out of their wrapping paper disguises, Lovefoxxx doesn't disappoint in the jump-suit stakes, wearing a particularly festive black all-in-one covered in multicoloured stars, matching their starry backing curtain dotted with lights. For a band from a much hotter climate, the Brazilian's certainly show the British how to celebrate Christmas in style, covering themselves in tinsel, streamers and the obligatory revolving glitter ball as they throw themselves around the stage.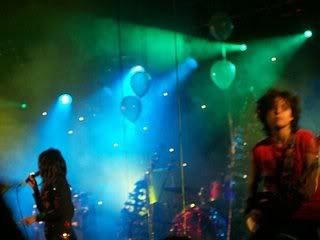 After being blasted with festive classics (yes, even Live Aid got a look in) from the speakers for what felt like a lifetime whilst waiting for the headliners, Fuckoff Is Not The Only Thing You Have To Show is a bizarre yet refreshing start to the proceedings and as predicted, gets everyone jumping about with giddy abandon. It's often forgotten just how many fantastic songs CSS have (Joe Lean, take note) but as they fly through This Month, Day 10, Music Is My Hot Hot Sex and Meeting Paris Hilton the mass of sweaty, glowstick-grabbing bodies surge forward, aiding crowd-surfers up onto shoulders. New songs are dotted throughout their set and sit pretty next to hit singles but in this excited, sticky atmosphere such unknown, fresh meat is welcomed. By the time the dancing Christmas tree appears again, everyone is singing along to Reggae All Night, aided by the words held high on a large sheet, like some eccentric, disco version of Disney's Sing-A-Long-Songs.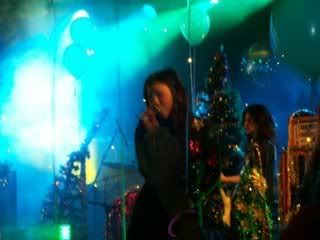 The band finishes and leaves the stage and the chanting soon stirs up again, echoing throughout the room and up to the balloon-clad ceiling. And as if by magic, they are back, with Lovefoxxx wearing possibly the barmiest yet most inspired outfit yet; a flesh-coloured body suit with eyes on her shoulders, a smile on her stomach and a moustache. Many fans take mental notes to add this to their Christmas lists. To the glee of myself and maybe a few others, CSS play a fantastic rendition of L7's Pretend That We're Dead and then bring the whole shebang to a close with everyone's favourite Lets Make Love and Listen To Death From Above, played out to perfection.

After decapitating the stage of all Christmas paraphernalia, the masses make their way back onto the frozen ice-rink outside and skate across the car park, still dancing and full of Christmas cheer.