Has anyone caught any of the Mobile Act Unsigned programme on T4? I've been watching it develop over the weeks (not religiously, but it always seems to be on just as I'm getting up), and wow, how dull are all the bands? I know some are the judge's choice and some are picked by the public, but none of them seem particularly interesting or exciting in any way. And some of them I actually really want to like! It's just all so samey, and they all sound like so many other bands (especially the indie boy four-piece… I forget their name). Plus Mancini... if it wasn't for the fact that their frontwoman is stunning, they wouldn't have been given a second look. I just don't understand how these bands could be seen to be creating new music, when it just sounds so rehashed or just plain terrible. It's embarrassing that they represent the cream of new, unsigned music in this country.
Anyway… let's not get all negative. At least it beats watching the X Factor.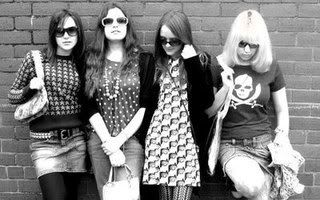 This week I've written up a profile piece for my magazine on the rather amazing Poppy & The Jezebels, four brummie girls who are still at school, but write lush, warm pop melodies and wear fabulous vintage dresses. It's hard to pinpoint exactly who or what they sound like… their influences include Patti Smith & The Slits, which you can definitely hear in the way the songs are put together, but the overall sound also reflects Joni Mitchell and the Raincoats. Then there's also Electro Bitch, featuring a heavy dose of theremin and lyrics like, "Electro techno bitch, I'm a bitch for you". And it actually sounds good. Basically the Jezebels are a mish-mash of everything good that has been written in the past 40 years, without sounding too much like one artist in particular. It's also pretty hard to believe that they are still in their teens (apart from Poppy Twist, the rest of the band didn't have time to answer my questions as they're revising for GCSE mocks!). They've just signed to Mute Records and have a new single coming out in January, so keep checking their site. At the moment they have one EP available, Follow Me Down, which really is worth a listen, and try searching for 'Painting New York on My Shoes' on MySpace videos, which isn't on the EP but is a lovely, pretty ditty. The interview will be published in the first 'proper' issue of my magazine,
Shebang
, which is due out in April.
MySpace:
Poppy & The Jezebels MySpace