To celebrate finishing my degree, I skipped the light fantastic out of Cornwall to Brighton for the weekend, for a much-needed and very much missed live music hit. Now I'm used to the traditional festival-in-a-field set-up, and so The Great Escape was a very different experience. Each 'day' (or really evening, as most of the music didn't kick off until 7pm) had to be carefully planned out beforehand in order to see the most bands in the smallest amount of time, which to be honest sometimes made the event more of a pain than a pleasure. But hey ho, live music is live music after all, and a chance to see some of my favourite bands for less than fifty quid isn't offered very often. But then most people probably aren't quite as geeky as me when it comes to music, so will take this time to relax, have some drinks, wander the streets and catch bands as and when they pop up, rather than turning it into an army-style plan of action (which didn't always work anyway, as these reviews will prove!).
Thursday
With our trusty timetables (that barely seemed to be relevant after bands had run over/under/not shown up/swapped slots mid-evening) and some cheap wine at hand we headed to our first carefully pencilled performance of the weekend: Eugene McGuinness at Digital. We missed the first couple of songs because of getting a bit carried away watching the seagulls on the beach, but as our eyes adjusted to the enveloping darkness of Digital we were caught off guard by Eugene's clear vocals and slow-paced, pensive melodies. It's no secret that he can write more than his fair share of dazzling songs, but seeing them performed live was an entirely different encounter. Shy, shuffling and softly spoken between songs, once the guitar was strummed his presence and luminous voice commanded the room.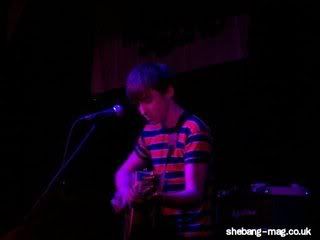 Eugene McGuinness at Digital
We later wandered over to the Ocean Rooms to be wowed by Ladyhawke. After listening to her few leaked tracks online for months before the GE, I was expecting her to be a sassy, upfront and slightly showy, but found she was majestic and vunerable, clinging to her mic-stand as though she might topple into an awkward daze at any moment. Like a Kim Gordon and Stevie Nicks' lovechild, Ladyhawke was incredibly imposing and glorious. Holding her guitar close and coolly reciting her lyrics with no hint of pretension, she occasionally let rip a jerky Angus Young-style guitar thrash, before quietly returning to the mic. Her accompanying band was tight and never missed a beat, and looked like they were having the time of their lives, the drummer grinning broadly every time he hit a cymbal. Besides well-known tunes Paris is Burning and Back of the Van, Ladyhawke proved she is no one-trick writer, and newer songs leant heavily on a disco and soul vibe, paired with her familiar eighties-inspired electro bops.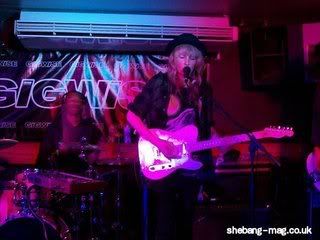 Ladyhawke at the Ocean Rooms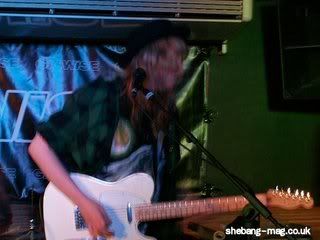 We then tried but failed to get into Peggy Sue and the Pirates at Hope, so called it a night (for the festival, anyway) and headed over to a local Dubstep night to finish the evening.
Friday
Determined to see Peggy Sue & The Pirates after the disappointment the night before, they were our first port of call at The Old Market. As Peggy Sue & The Pirates took to the stage, the sound guy kept playing whatever shite was coming from the speakers – I think it was Reverend and the Makers – prompting polite giggles, jokes about a backing track and eventually resorting to loudly ask him to turn it off (he didn't, and we all had to listen to the track in its entirety. Thanks for that Mr. DJ). But this didn't phase Rosa Rex and Katy Klaw, who launched straight into their hand-clapping, finger-clicking melodies. Their voices clash and compliment each other, yelling and screeching, whispering and buzzing through the speakers in a clatter of soulful blues and punk-sharp uproar. With quick-witted banter between every song, they frequently catch each other's eye and laugh, taking turns to sit at the drums and bang along to frantic guitar plucking or a plinking toybox instrumental. Their best song live was Spare Parts, with its hiss-pop click of sounds and swirling harmonies.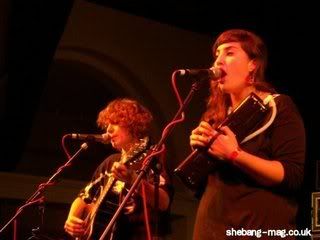 Peggy Sue & The Pirates at The Old Market.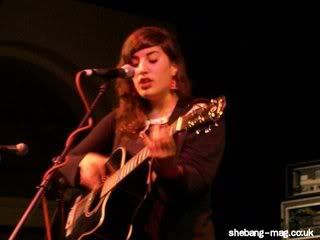 The on to the Honeyclub to see French favourites The Teenagers in all their pervy, teen-angsty pop glory. Their lyrics are often filthy enough to make an audience blush, but somehow singing them in a surly French accent disguises the narratives of fucking "American cunts" and "fuck Nicole", making them sound positively romantic. This band are so hot right now, but don't they know it. Singer Quentin purrs into the mic, coyly glancing at the audience and dancing and strolling around the stage, spinning stories of Parisian streets and French kisses. For Homecoming, the now-standard task of finding cheerleaders from the audience takes place, and Quentin and Michael head to the crowd for a massive group sing-a-long. Mainly opting for newer album tracks rather than older demos, the fury might have been slightly lacking but the filth was definitely still there. By far the most entertaining and fun band of the weekend, half an hour just didn't seem long enough. I just hope they return to the UK soon for a full-length set.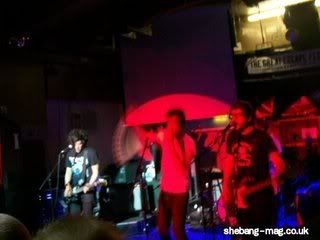 The Teenagers at the Honeyclub

We then had drinks, and some more drinks, and eventually ended up watching Flight of the Conchords at home. Rock'n'roll indeed.
Saturday
Aah the final day. And so far, we've seen 4 bands. Time to catch up. Straight over to Lightspeed Champion back at The Old Market to begin the proceedings. After nearly queuing around the block to get in, by the time we could squish ourselves through the door Dev had already been onstage for about 10 minutes. OK, now I don't know quite how to put this after my declaration of love for him a few months back… but he wasn't actually very good. At all. When musicians are referred to as heartbreakers, I don't think they mean it in this sense. It was just a wail of messy feedback, with Dev frantically pounding at his guitar, never once looking up or interacting with the crammed-in audience at his feet. Occasionally he sung a few lyrics before returning to a self-indulgent proggy guitar wanking session. Maybe in his mind he felt like Hendrix. In reality, he just looked like a tit. We slunk off after 10 minutes, allowing some of the queuing outsiders to come in and be a part of this ear- and eyesore. In his defence, I'm sure that with a band behind him he sounds great, but standing alone on stage he was unable to do any of his fantastic songs any justice whatsoever.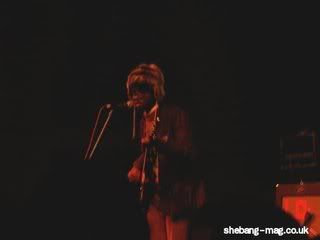 Lightspeed Champion at The Old Market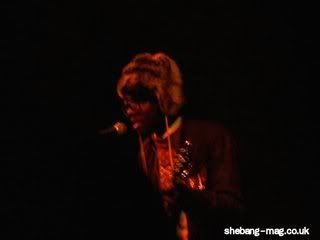 Seriously deflated, my friend suggested Wiley. In honesty, his music isn't usually my thing, but feeling bad for dragging her to Lightspeed I agreed, as good music is good music after all. But when we arrived at Revenge, there was no sign of Wiley and no one knew if he'd turn up or not. One very expensive drink at the bar later and we're told by Bunny Rabbit that he's a no-show. So we do what anyone would do in that situation: go to a friend's house, get drunk and head back down to the beach to Digital to join the queue for the Erol Alkan and Mystery Jets gig (not linked with Great Escape). Photos (and pretty terrible photos at that) will have to say more than words now, as I wasn't really in serious journalistic reviewer mode at that point. But the Mystery Jets were incredible, playing every single hit and favourite, including my favourite, Diamonds in the Dark, and Erol Alkan proved his title as DJ royalty, dropping tune after tune and closing with the Boys Noize remix of Feist's My Moon My Man and Roxanne.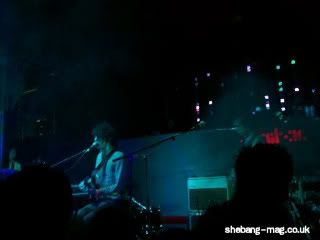 Mystery Jets at Digital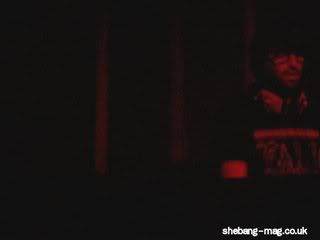 Erol Alkan at Digital

All in all a great weekend, though probably best avoided if you aren't a fan of clashing band sets or organisation in any shape or form, and just want to kick back in a massive field and let the bands come to you.
PS. I know my photos suck.