This week, when spring cleaning my room, I came across my favourite Kill Rock Stars hoodie and saw that in the cold light of day, it's stretched out hood and arms, various rips, faded colour and randomly splattered pink bleach spots (from the time we enthusiastically de-mildewed the bathroom) made it more of a museum item than a piece of clothing.
So, with the aid of my mum's credit card details (note: they don't accept debit cards), I headed over to the buyolympia website to get a replacement (and a few t-shirts while I was there, only to justify the postage costs of course *ahem*). And whilst scrolling through the merch section, I realised that I couldn't remember when I'd last listened to my beloved Bikini Kill, Comet Gain, Gossip (early), Deerhoof et al. Most of my records are still in my old bedroom, stacked in rickety jenga piles at the top of a bookshelf, left unplayed and abandoned for the past two years. So I took the afternoon off dissertation-duty and got reacquainted with some old friends with the help of my housemate's record player and the few 7 inches I'd thankfully decided to bring to Cornwall at the last minute. And at the risk of sounding like someone more accustomed to Werther's Original and rainy coach trips than Riot Grrrl: they really don't make them like they used to.
Bikini Kill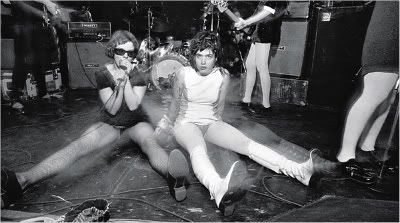 I remember first being aware of Bikini Kill when I was about fourteen and wanting them to be as cool as their name suggested. Luckily for me, they were beyond brilliant. Pussy Whipped crackled with fuzzy feedback shrieks and fast, cranky guitar powerchords, Kathleen's vocals soaring between an adolescent hissy-fit and vigorous, bellowing commands, "I think I wanna take you home, I wanna try on your clothes, YEAH!". Being a late-eighties baby I'd totally missed the riot grrrl-style revolution, but Bikini Kill were all the education I needed. Punk, politics and feminism clasped hands and led the record on a rampage, putting the world to rights on a soundtrack that makes the Sex Pistols sound over-produced. Rebel Girl (whch was released with New Radio on single, produced by Joan Jett) was an undeniable force of girl power (before the Spice Girls rocked up on their platforms and associated it with selling Pepsi and anything else they could get their paws on) and Blood One's shaking bass and "I don't owe you NOTHING!" yell nearly broke my speakers. But Bikini Kill weren't all about fury and blaring rally cries. They were passionate, but not preachy, concerned but not needlessly critical.
And For Tammy Rae is one of the most beautiful songs ever written. It's hopeful, a dreamy hum that blurs your surroundings and catches your heart off guard.
"Past the billboards and the magazines
I dream about being with you
We cant hear word they say
Lets pretend we own the world today
I know its cold outside
But when were together I got nothing to hide
Hold on tight I will never let you down
It cant rain on our side of town
Wipe the sweat from my hair
Tell me we're not better off
Wipe the tears from my face
The sunnyside of the street, where we are"
Must-haves:
Pussy Whipped, The CD Version of the First Two Records, Reject All American.
Random fact:
Tobi Vail dated Kurt Cobain in the early nineties and scrawled "Kurt smells like Teen Spirit" on a wall, inspiring probably the biggest grunge record of all time.
Now:
Kathleen Hanna went on to form Julie Ruin and later, Le Tigre, Tobi Vail is now playing with the Old Haunts, Kathi Wilcox plays in the Casual Dots and Bill Karren is in Boo-Boo and the Corrections.
Music
:
Bikini Kill - For Tammy Rae
Gossip (pre-Standing in the Way of Control)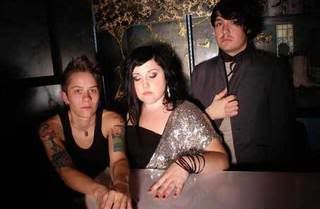 Since last year, it's been impossible NOT to have heard Standing in the Way of Control in it's various remixed forms. Great song, but the Gossip have a lot more than stomping dancefloor fillers under Beth's sequinned dresses. Now they might be chucked into that sweeping, varied label of 'indie rock' but for years the Gossip have been blaring out urgent, dark basement blues, Beth's vocals a force that demands your immediate attention; a crash on your chest rather than a polite poke on the shoulder. The Gossip are unapologetic, proud to distance themselves from trendy 'scenes' and stand up for the overlooked and the underestimated, while their fan base doubles and triples daily, and the mainstream press pants over their honest, dirty-minded and exuberant frontwoman.
Movement is my favourite Gossip record thanks to the gut-wrenching cry of Nite, No, No, No's fastpaced, guitar-sped dirty choruses and the confident swagger of Don't (Make Waves) ("It's not like I could have stopped her, as a girl can't be tied down"). Though the Gossip might now be the indie darlings of the NME scene, their ethics remain as solid as their songs and hopefully thanks to
that
Skins advert, downloaders might stumble across some of their early offerings, a reminder of the raw power that holds up the electro beats.
Must-haves:
Gossip EP, Movement, Arkansas Heat
Gossip MySpace
Music:
Gossip - No, No, No